Room Additions – Second Story Additions
Remodeling Greater Houston Texas Residential & Commercial for Over 30 Years
Second Story Additions
Five Questions to Ask Before Starting a 2nd Story Additions?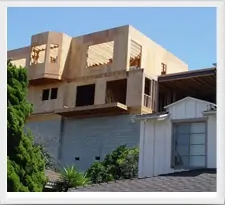 A second story addition on a one-story home requires significant expertise in engineering and remodeling.  This is where experience with home building with structural engineering experience is critical.  Unique Builders of Texas has decades of building 2nd story addition.  If you are in the market to expand your home with a 2nd story addition, then don't just rely on a remodeling company, because a second-floor home expansion requires architectural design, electrical upgrades, plumbing re-work, often hot water heaters, and HVAC systems re-design and repositioned.  Attic structure and framing redesign with the proper level of calculations for the weight and height of the new elevation of the home.
The main purpose of a 2nd story addition is often the requirement to increase living space and re-work the home layout.  Often we come across the need for additional bedrooms, which often means the need to add bathrooms to the 2nd-floor design.  Some customers want to leverage the doubling of the square footage with media room, game rooms with bar areas, office space on the first floor, or in-law suite designed on the 1st floor, which the new space is allocated for kids rooms and family rooms.  If you envision your requirements and need to double your square footage with a 2nd story addition, call us.  Our design team has decades of experience planning, designing & building second-story additions, and remodeling your entire home.
If you are going to live in your home, while the second-story remodeling is built out, this can be a major challenge.  We have to coordinate and stick to a project plan when we have to move the plumbing, hot water heaters, turn off the electric, turn off the air conditioning system, and the list goes on and on.  While many of these critical tasks can be done through coordination, it's important to note that in Harris County, this type of work requires permitting and we have to wait for inspections to take place during different stages of the build-out.  A second-story addition is basically building a new home on your existing home.  So, it requires the same level steps as new construction, accept with more steps to re-think and re-work the infrastructure of your home expansion.
We highly recommend you take the time to think about what you are seeking.  Consider the sketching the layout on paper, think about the size and use of each of the rooms.  Consider the amount of time you will be living in this home.  Identify some magazine cut-outs of what you want to see for the second-floor expansion.  Do some soul searching, if remodeling is something you want for the 1st floor as well.  Planning the costs and time needed for this project before jumping into getting designs, plans, and estimates for this project.
We recommend before taking on a 2nd story expansion, consider purchasing a new home that can potentially help you get the space you desire.  Additional alternatives are to find a home that is close to what you need regarding your living space and allow us to remodel the entire home to meet your desired requirements.  We want you to explore all alternative options before undertaking a 2nd story build-out, as these projects are complex and require proper engineering before moving forward with estimates.  The initial cost of engineering can be in the $1,000 dollar range, but it's a must for us to have detailed plans for the project.  You see a single floor home is not often designed to carry the weight of the 2nd floor.
Analysis of how much weight cans the current slab or your "pier and beam" support? Structural engineering is a must to identify where and how much support is required for underground support with additional piers. How many beams are required as part of the framing?   If you have an architectural remodeling design and your current estimates from a remodeling company seems on the lower end and they are not pulling permits from the city, these are big red warning signs.  Please call us for a free estimate. Houston Harris County requires engineering design documents and your experience remodeling contracts will need detailed designs to pull permits for the work.
Questions the homeowner should ask themselves about 2nd floor expansion before contacting a home builder:
Question 1. What type of space do you need for your 2nd floor home expansion?
Often expansions of the 2nd floor the need is to expand and create new 2nd floor bedrooms with shared or individual bathrooms, a game/theater room with a powder-room or hobby/office work areas.  Thinking about built-ins; stairway connecting the floors, closet space, windows, lighting, fans, ventilation, soundproofing, flooring, paint, fixtures, etc.
Question 2. Have you envisioned how the 2nd-floor addition elevation will look?
Elevation and architecture of the home are important for aesthetics, and curve appeal — this is a must for resell value of the home.  Homes are one of the biggest investments for a family, therefore, thinking about the home elevation and design should be considered carefully.
Question 3. Did you think about the core architecture feature?
Roofline, shingles, siding, stone wall, exterior paint, windows, gutters for water flowing away from the home structure are all important areas to ponder and write down.
Question 4. Who will utilize the 2nd-floor space?
Is the 2nd story expansion for immediate family or for extended family?  Are there special needs for handicapped access such as elevators to be designed into the plans?  Are there pets, proper flooring materials, insulation, and wall paint considerations.
Question 5. What is your budget for the home's second-story expansion?
Is the budget ready to start, or is financing required?  Did you consider all of the costs including additional HVAC and hot water heater, plumbing and electrical work, permits, etc?
Unique Builders of Texas has decades of experience in Greater Houston, building 2nd floor home expansions.  Our customers often have similar questions for us, so here is some important information for your consideration.
Four Top Questions Homeowners Ask About 2nd Floor Addition
Question 1. Can I do a partial 2nd story addition if we only need a new master bedroom and bathroom?
Answer. Yes, often a master bedroom and bathroom can be added on to the existing structure based on the layout of your floor plan on the 1st floor.
Question 2. Can we add the master bedroom & bathroom above the garage?
Answer. Yes, however, we often find that the garage slab and the structure of the garage framing are not sturdy to support and expansion, requiring us to rebuild the garage slab, framing, and then expansion.
Question 3. How much should I budget for a 2nd-floor addition?
Answer. A full or partial 2nd-floor addition project pricing varies based on many factors such as the home elevation, architectural requirements, materials needed for the project, electrical and plumbing requirements, HOA special requirements, square footage, number of windows, doors, molding, fixtures, etc. Typically, the pricing for such a project can range widely between $100 per square foot to $200+ per square foot. We also offer to finance if needed.
Question 4. Why does 2nd story addition cost more per square foot than the 1st floor?
Answer. There is a lot of re-working of the plumbing, electrical, roof tear-off, and re-building an entirely new roof, stairs, plumbing, HVAC, electrical, ventilation, insulation, and framing, all of this requires more time and money for this type of projects.
Unique Builders is the right builder for your 2nd-floor addition
We have worked in the Greater Houston well over 3 decades building & renovating on all types of homes. Our reviews from existing customers on Google should give you a significant insight into the quality, service, and workmanship we bring.
We are BBB A+ rated, member of the Texas Association of Builders, GHBA Builders Association, National Association of Home Builders, and member of many other local and national associations for years.
FREE Consultation
QUALITY HOME REMODELING GENERAL CONTRACTORS IN HOUSTON TEXAS
We provide estimates in writing.  Full-service home & commercial remodeling company in Houston, Texas.  Call us.
Serving Greater Houston
Houston, Rice University, Rice Military, City of Bellaire, Montrose, Medical Center, Houston Heights, Tanglewood, West University Place, Memorial, Galleria, River Oaks, The Woodlands, Spring, Katy, Fulshear, Southside Place, Cypress, Tomball, Humble, Piney Point Village, Tomball, Clear Lake, Sugarland, Missouri City, Kingwood, Atascocita, Conroe, Pearland, Jersey Village
---
5320 Gulfton St #9, Houston, TX 77081 Φ Publish updated: