Deck Addition – Composite

Click and hold your mouse cursor to "look around."
Click to save or download a 3-D SketchUp model for the mid-range composite deck.
Important: To view and work with this model, you need to have Google SketchUp software loaded. For a free download, click here.
Add a 16-by-20-foot deck using pressure-treated joists supported by 4×4 posts anchored to concrete piers. Install composite deck material in a simple linear pattern. Include a built-in bench and planter of the same decking material. Include stairs, assuming three steps to grade. Provide a complete railing using a matching system made of the same composite as the decking material.
Click on an image to open a larger version in another window.
Composite Deck Before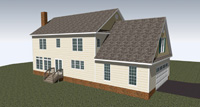 Composite Deck After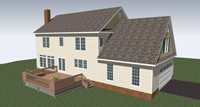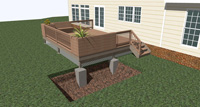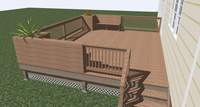 All projects in SketchUp created by MC DesignBuild, Inc.