Basement Remodel
Basement

Click and hold your mouse cursor to "look around."
Click to save or download a 3-D SketchUp model for the basement remodel.
Important: To view and work with this model, you need to have Google SketchUp software loaded. For a free download, click here.
Finish the lower level of a house to create a 20-by-30-foot entertaining area with wet bar and a 5-by-8-foot full bathroom; construct 24 linear feet of finished partition to enclose mechanical area. Walls and ceilings are painted drywall throughout; exterior walls are insulated; painted trim throughout. Include five six-panel factory-painted hardboard doors with passage locksets. Electrical wiring to code.
Bar area: Include 10 linear feet of raised-panel oak cabinets with laminate countertops, stainless steel bar sink, single-lever bar faucet, undercounter refrigerator, and vinyl floor tile.
Main room: Include 15 recessed ceiling light fixtures and three surface-mounted light fixtures, and a snap-together laminate flooring system.
Basement Bathroom
Click and hold your mouse cursor to "look around."
Bathroom: Include standard white toilet, vanity with cultured marble top, resilient vinyl flooring, two-piece fiberglass shower unit, a light/fan combination, vanity light fixture, recessed medicine cabinet, towel and paper-holder hardware.
Click on an image to open a larger version in another window.
Basement Bird's Eye View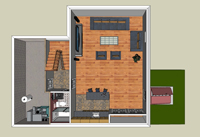 Bathroom Bird's Eye View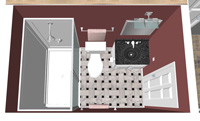 Basement Living Area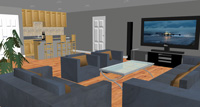 All projects in SketchUp created by MC DesignBuild, Inc.